Our Hours
Monday
Tuesday
Wednesday
Thursday
Friday
Saturday
Sunday
8AM - 11PM
8AM - 11PM
8AM - 11PM
8AM - 11PM
8AM - 11PM
8AM - 11PM
8AM - 11PM
Facilities
ATM Available
Medical Discount Available
Senior Citizen/Vet Discount
Dog Friendly
Melted Monday
25% Off Dabs, Vapes and Infused Joints
Phat Tuesday
30% Off all Phat Panda brands
*excluding dabstract
Wellness Wednesday
25% Off Raven Grass, Ceres, Fairwinds & Passion Flower
Thrifty Thursday
20% Off eighths of $45 value or higher plus all drinks!
F Yeah, It's Friday!
Expand
F Yeah, It's Friday!
20% Off vendor of the day and all ounces of flower!
(sensimilla ounces are not discountable)
Subdued Saturday
30% off all subx, cold smoke and sub division!
Savings Sunday
Every sunday get 20% Off all online orders!
In addition, get 30% Off Hooter, Soulshine and Constellation!
Discounts cannot be combined.
About Piece of Mind Cannabis Spokane South
---
About Piece of Mind Cannabis Spokane South
South Spokane Dispensary
Want recreational marijuana in South Spokane? Our Spokane dispensary locations span across the north and south side to keep you covered from all angles. We pride ourselves on excellent customer service, store experiences, and of course, great cannabis. Check out the large selection of sativa, indica, hybrid, and CBD products at our Spokane Valley dispensary today. 
Years of dedication to our customers
Piece of Mind Cannabis has been serving Spokane residents since 2014. We are committed to helping recreational and medical cannabis users, so we ensure that our budtenders are friendly, knowledgeable, and equipped to help with any question. Whether it's your first time visiting a dispensary or you've been buying weed in Spokane for years, get the most out of your experience by visiting our South Hil pot shop.  
Not sure what to expect? Don't worry. We are committed to providing a comfortable, welcoming experience. Our knowledgeable budtenders are ready to answer any questions you may have and can point you in the right direction. We have dozens of brands, hundreds of products, and the best overall experience you can ask for.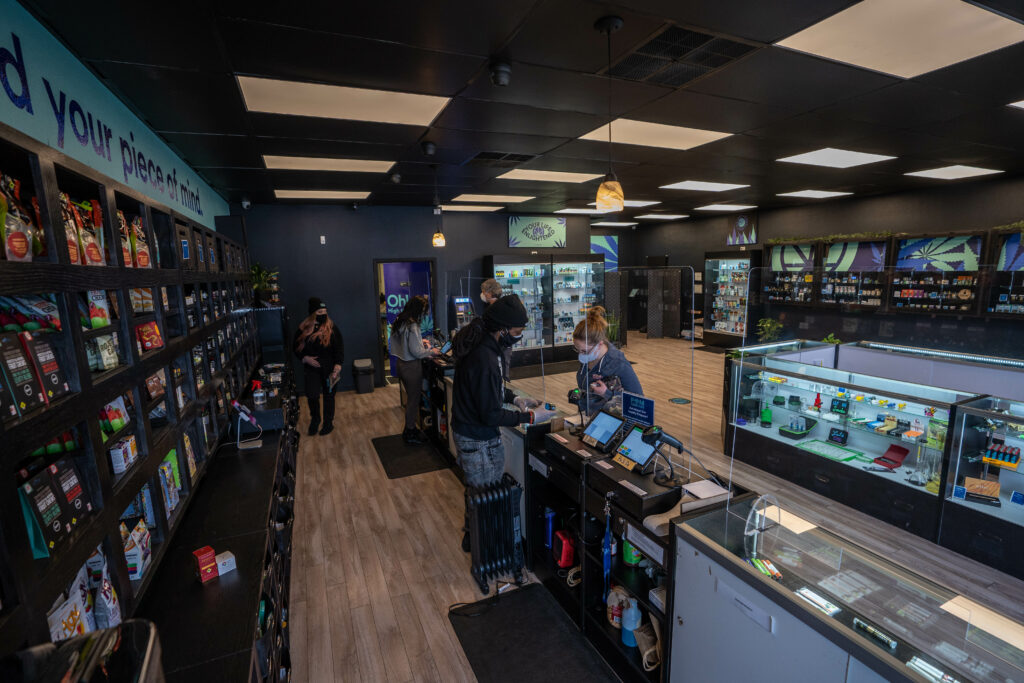 Convenience for our shoppers
Want recreational marijuana in Spokane to elevate a good time with friends? We've got you covered. We're also here to help our Spokane medical marijuana users. In fact, we've got dedicated medical marijuana consultants on hand to help our medical patients get the best advice and products available. 
To make the experience even more convenient, you can order online from our Spokane dispensary website. That's right, just find our online menu and search through our vast selection of prerolls, flower, concentrates, edibles, and so much more. You must be 21 or older to search or purchase cannabis, so be sure to have your ID ready when you stop by our South Spokane dispensary to pick up your items. 
Come find our South Spokane dispensary located at 2804 E 30th Ave, Spokane WA 99223. We're here to help you with all of your cannabis needs. Don't forget to bring your ID, as we will check everyone who comes through to make sure they are 21 or older
Medical marijuana consultants at the ready
If you're a medical cannabis user, we are here to help. We are a medically-endorsed cannabis dispensary in Spokane and can assist patients will all of their medical cannabis needs. Just call our Spokane Valley dispensary to speak with one of our medical marijuana consultants to set up your visit today. 
While all of our recreational customers must prove they are 21 or older, we can assist medical patients 18 years and up, given they have the proper documentation. Please give us a call to discuss your specific needs with one of our knowledgeable medical marijuana consultants. 
Come say high and shop with us!
For the best weed in the Lilac City, stop by Piece of Mind Cannabis today. We're open from 8 a.m. to 11 p.m. every day and ready to assist you with all of your cannabis needs.