Best Cannabis strains to pair with Beer at Gruff Brewery
If you haven't met our Bellingham neighbors at Gruff, you're missing out on one of the best Bellingham breweries in Whatcom county! Gruff brewery sources a majority of its materials from around the state of Washington, taking pride in producing quality, unique beers that are loved enough to win some people's choice awards in town. With a one-of-a-kind patio and fantastic views of the bay, Gruff is conveniently located next to our Bellingham pot shop, offering the perfect opportunity for collaboration. 
May 5, 2021
How Cannabis and Hops Compare
Cannabis and hops share many similarities. Both are resinous green flowers with similar chemical makeup. Some beers offer rich, dank, or skunky aromas, reminiscent of marijuana. This is because terpenes like beta-pinene, myrcene, and alpha-humulene which are commonly found in hops, are also commonly found in cannabis. What are terpenes? Cannabis terpenes are aromatic oils which are usually responsible for that pungent skunky smell in some of your favorite Cannabis strains. Some terpenes may promote relaxation like Myrcene, while others may help with staying focused like Terpinolene. Each marijuana strain is comprised of different Cannabinoids and terpenes which make up its unique flavor, smell and high – you can tell this best in person, right from our POM Cannabis Bellingham location!
With one of our favorite Bellingham breweries by our side, we worked together to compile a list of our favorite cannabis strains from our Bellingham dispensary to pair with Gruff's favorite beers! Gruff Brewery is located next door to Piece of Mind Cannabis Bellingham, get directions here.
Pilsner and Jack Herer
Pilsner is a crisp and light-bodied beer that is generally considered easy-drinking. This is perfect for pairing with sweet fruit flavors like lemon or berry. Gruff's pilsner is called Gruff Lite, a light-bodied beer that pairs well with the strain Jack Herer. Currently available from Phat Panda, Doctor and Crook, Northwest Concentrates and Raven Grass! The uplifting effects of this sativa paired with its distinct lemon and pine flavor will keep you elevated and ready to go all evening.
Hefeweizen and Blue Dream
This wheat and clove beer, complete with hints of citrus and berry, is a match made in hefeweizen with Blue Dream. Gruff's German hefeweizen is light-bodied and flavorful, a popular choice for regulars across the Bellingham breweries scene. Blue Dream is a sativa-dominant hybrid with sweet hints of berry and relaxing effects. Put the two together and you've got yourself a great evening. Currently available in distillate, vape cartridges, pre-rolls and flower at our Bellingham pot shop, tap here for the latest.
Belgian Witbier and Cinex
Gruff's Belgian witbier is the Sage wit, a fruity and light-bodied choice that pairs well with nutty and fruity flavors. It's light in color with a silky feel and lemony finish. Pair it with Cinex, a sativa-dominant hybrid that provides an energetic high. The earthy, citrus tones make for a delightful mix.
Many users like Cinex for daytime use because its effects are cerebral and focused. If you're looking for a fun time without losing too much clarity, get yourself a witbier and some Cinex. Click here for our most up to date list of Cinex aka Cenex products!
Pale Ale and OG Kush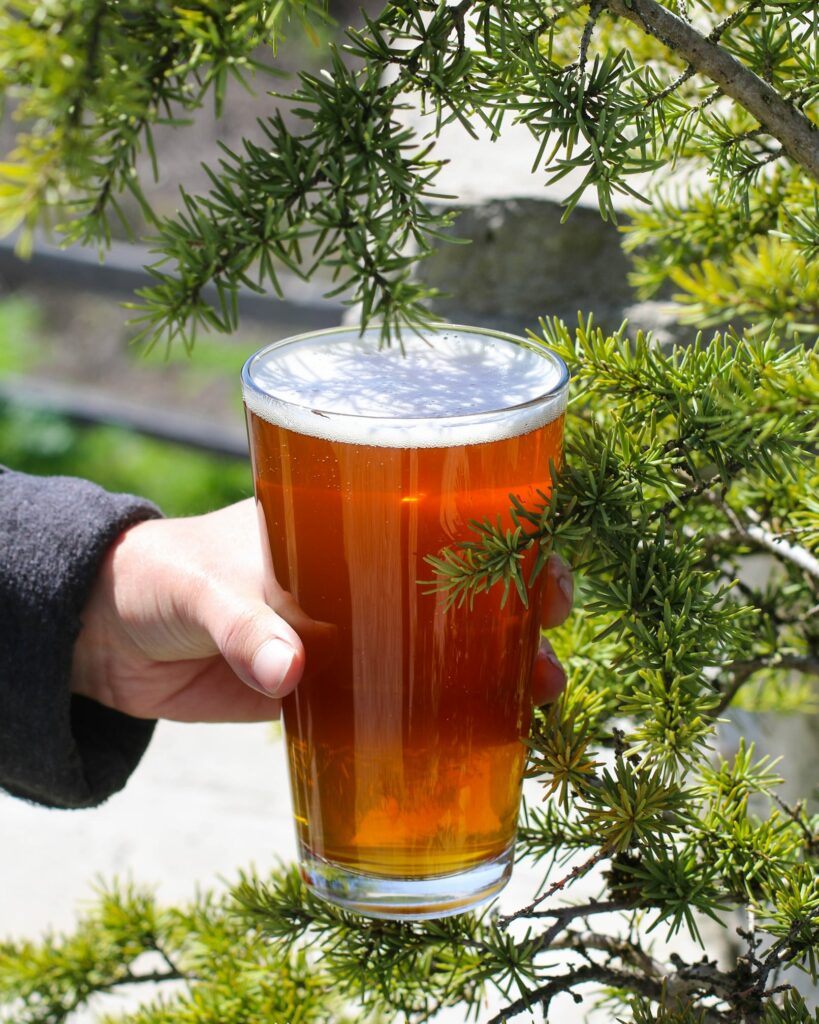 A hoppy, citrusy, medium-bodied beer like a pale ale does well with strains known for their spice and skunky flavors. At Gruff, you can have a Glass Beach Pale Ale, a delicious blend that pays homage to a favorite Bellingham beach spot.
Pair it with OG Kush, or any of its phenotypes. This strain is skunky and spicy with relaxing and uplifting effects, making it the perfect match for a pale ale. Tap here for our current OG Kush selection!
Stout and Lamb's Bread/Breath
A heavy beer with malty, chocolate and coffee flavors pairs well with a sweet and earthy strain. That's why we love Gruff's Nitro Coffee Stout with Lamb's Bread. Sometimes referred to as Lamb's Breath, this sativa strain has a creamy citrus flavor that will amplify the unique notes of both the beer and the cannabis.
Lamb's Bread/Breath is both an energizing and relaxing strain that will have you feeling elevated, especially when paired with a stout. Click here for our current selection of Lambs Breath, a strain rumored to be Bob Marley's favorite!
A word of caution
When pairing cannabis and beer, or any alcohol for that matter, there are some considerations. Most importantly, only pair the two when you can do so responsibly and safely. Never drive under the influence.
If you can't walk or get a ride, you'll want to abstain from both drinking and consuming cannabis.
It's also worth pointing out that there aren't really right or wrong pairings for beers and strains. If you like the way two things complement each other, then you have a good pairing.
Piece of Mind Cannabis is a medical marijuana and recreational Cannabis dispensary with locations in North Spokane, South Spokane, Seattle, Bellingham, Pullman and Anchorage!