About Piece of Mind Cannabis
---
Everything you need from grass to glass
We have a considerable selection of only the best products at Piece of Mind Cannabis. Whether you're looking for cannabis products to consume or need a quality device to smoke them out of, we've got your back. At Piece of Mind, we pride ourselves on providing everything you need to enjoy your weed from start to finish.  
Stop by to see our selection of pre-rolls, flower, vape cartridges, hash, crumble, wax, live resin, rosin, topicals, edibles, beverages, and so much more! Don't stop there, though. Be sure to check out our wide variety of glass pipes, bongs, bubblers, dab rigs, and other quality pieces in-store.
Exceptional customer service
At Piece of Mind Cannabis, we pride ourselves on providing unparalleled customer service. Whether you're entering a dispensary for the first time and need some guidance or you're an old pro who knows exactly what you want, we're happy to help you get the best product for your needs. 
Have a question about a specific product? Need information about the plant in general? We've got you. Our friendly and knowledgeable budtenders are ready to answer any of your questions with a smile. 
We make it our mission to ensure our customers leave Piece of Mind Cannabis satisfied. We don't ever want anyone to feel intimidated or limited because they are new to the plant or do not know much about it. Cannabis users come from all walks of life and we understand that. It's why we will do everything we can to help lead you on the right path for your cannabis journey.
Wide selection of the finest products
Whether you come in knowing exactly what you want or need extra guidance, let our team give you peace of mind about shopping for cannabis products. You can count on us to provide only the best quality products so you'll always leave satisfied. Plus, our friendly and knowledgeable budtenders are dedicated to working within your budget to find the best deals for your personal needs. 
We'll work with you to find the best cannabis to suit your lifestyle. Once our budtenders know the effects you're seeking, how you want to consume, and your budget, we can find the best options for you. 
Piece of Mind Cannabis is stocked with hundreds of products at various potencies,from flower to pre-rolls, edibles to drinks, and concentrates to vape cartridges, meaning there is something for everyone. We work with the best companies in the state to carry the finest products Washington and Alaska to offer. 
Looking for something specific? Piece of Mind is the go-to store for rare or hard-to-find products for many of our customers. Look through our online menu or stop by to see if we've got what you are looking for! 
Competitive Pricing
Don't want to break the bank shopping for cannabis? Look no further than Piece of Mind. We're not about unfair pricing systems. Our team is committed to sound business practices all around, including the way we price our products. 
We're happy to work with your budget and do everything possible to get you the best bang for your buck!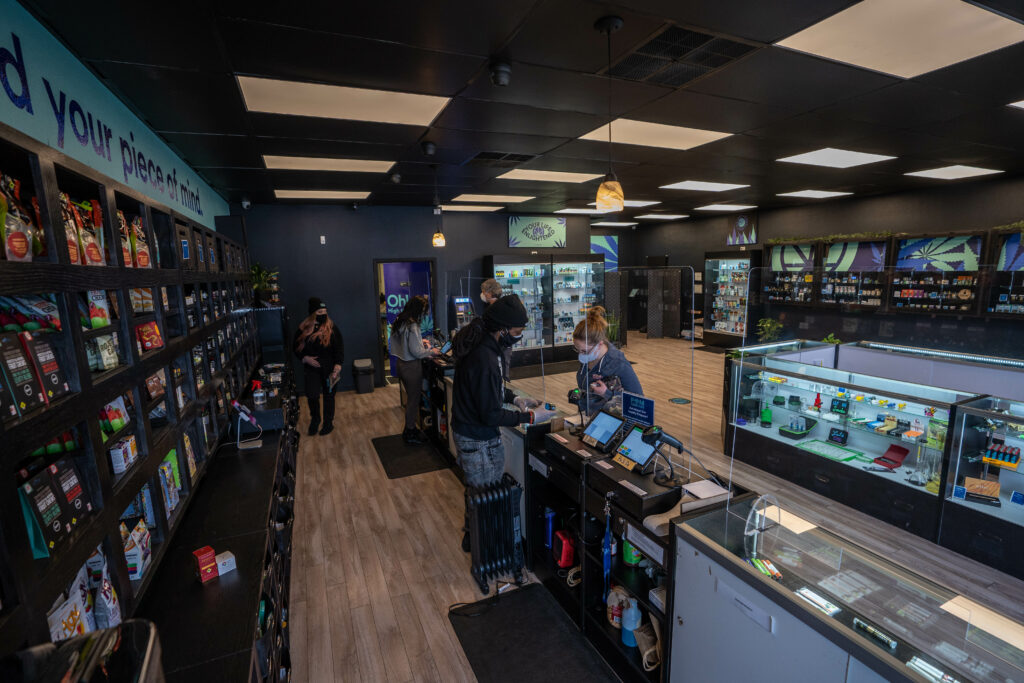 The Piece of Mind Mission
Piece of Mind's story begins in the '90s with our cannabis advocacy. It started with our founders who advocated for patient access to medical marijuana along with resistance against the war on drugs. Today, the cannabis landscape has changed considerably. We continue to stand wholeheartedly behind the brands and movements we believe in. 
Piece of Mind was founded by Justin Wilson over 20 years ago in Spokane, Washington. What once was a single retail/culture shop has since expanded across eight locations in the United States to provide a huge variety of functional glass from dab rigs and dry pipes to bubblers, bongs, and more. After many years of selling functional glass, our first cannabis dispensary opened in Spokane in 2014 with great success. 
With over 20 years in the industry, we can say with certainty that we would not survive without the support of our wonderful customers. Our cannabis community consists of users from all walks of life, which is why we are so dedicated to providing excellent service to all. 
Our goal is to educate customers and function as a resource to our community. Whether you're new to the plant or have in-depth knowledge, we want you to feel safe and welcome at Piece of Mind. Our team is constantly learning new things and keeping up-to-date with the latest cannabis science and news to help our community thrive.  
Need medical assistance? We have certified medical consultants on staff at select locations as part of our commitment to the cannabis community. Consultants work with qualified patients to find the perfect products for medical use. You will need to have a valid medical marijuana card to receive assistance from our medical consultants. 
Beyond being able to better assist our medical community, our medical endorsement also offers the benefit of lower taxes for the customer. Qualified patients can purchase our products without sales and use tax. We can also offer up to three times the recreational limit along with high-THC products when available to our medical patients. 
At Piece of Mind, we truly want you to feel at peace with your experience. Our stores are clean, friendly, and welcoming. The space is yours to ask questions, look around, and learn about the world of cannabis at your pace. We're here to answer questions and guide you along the way. 
We are dedicated to providing our customers with a positive experience. Only the best products in the state make it on our shelves. We refuse to settle for low-quality products from untrustworthy sources. 
By sharing our knowledge and products with customers, we get to share our love for the plant with the community.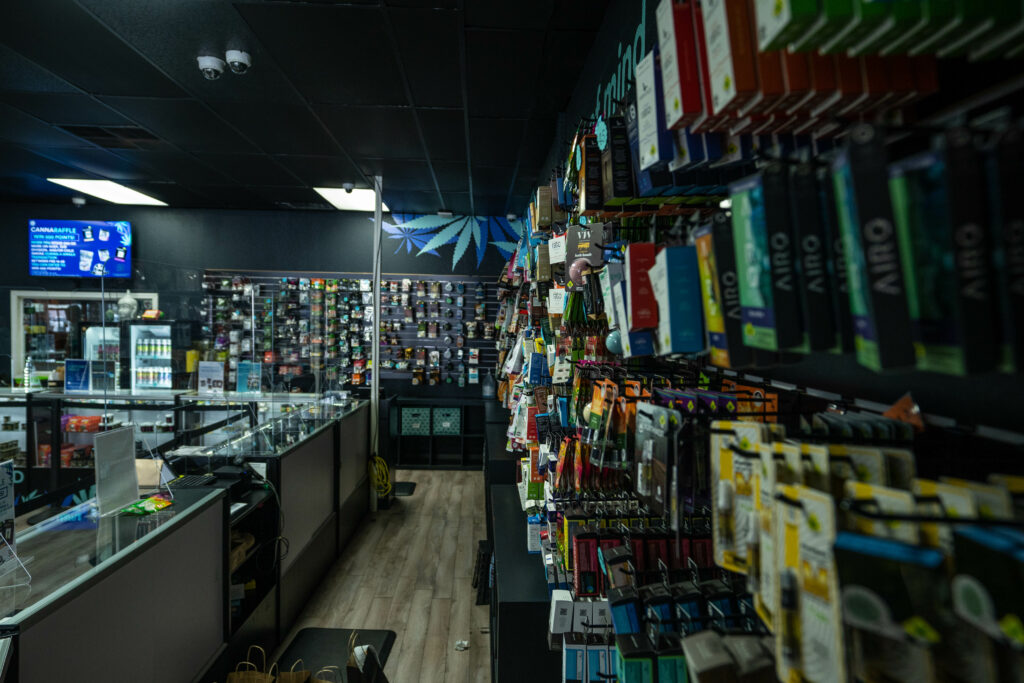 Piece of Mind Online Shop
Do you know what you're looking for? Save yourself some time and place an order from our online shop. Browse through our selection of hundreds of products from the comfort of your home. When your order is ready, stop by the location you ordered from and pick it up. It's as easy as that! 
Our online shop is a convenient resource for our busy customers. Quickly sort through our products by category, including tinctures, edibles, pre-rolls, topicals, and more. Then you can use filters such as price, THC level, and more to get exactly what you want without any hassle.
Piece of Mind Cannabis Shop Locations
Piece of Mind Anchorage has everything you need when it comes to weed. Located on the outskirts of downtown Anchorage and surrounded by Alaska's beauty, we are a premier cannabis retail dispensary in the Last Frontier. Find hundreds of products from the best brands in the state. Whether you want flower, prerolls, concentrates, cartridges, or something else, we've got everything you need to stock up in Anchorage!
Piece of Mind Bellingham is conveniently located downtown in the city of subdued excitement. You can find us next to GRUFF Brewing Co. and down the street from the beloved Bellingham Farmer's Market. We've been a staple in the Bellingham community since 2016, providing the best cannabis in the Pacific Northwest to a variety of community members. Stop by and see what over 40 brands and 600 products look like!
You may know Pullman as home to the Washington State Cougars, but did you also know it is home to the best cannabis store on the Palouse since 2016? Conveniently located off of the 270 highway and with ample parking, we've got everything you need at Piece of Mind. Stop by to check out our vast selection of infused pre-rolls, high-terpene extracts, edibles, and more.
As our second location to open in Spokane, Washington, Piece of Mind South has a great variety of products from CBD, vape cartridges, flower, and more. Spokane locals and visitors alike can stop by to check out our high-quality cannabis. We're located near Iller Creek Conservation Area, which is perfect for a day adventure. There is plenty of parking available so stop by and say high today!
Our Spokane North location was the very first dispensary we opened back in 2014 after years of selling functional glass. Now you can count on us for all of your needs from the glass to the grass. Find us at the "Y" junction of Division Street with the best cannabis at great prices in North Spokane.

Our Seattle location is nestled in the popular neighborhood of Fremont, home to the famous Fremont troll! Down the street from the popular Nectar Lounge, our fremont shop is a well known favorite in the neighborhood, serving the community a wide variety of Cannabis products as well as bongs, pipes, dab rigs and more!