Celebrate an At-Home Covid New Years with Cannabis
We all know that 2020 did not go as planned. Many of us are ready to start a new year fresh, while others are bummed for a myriad of reasons, including not being able to celebrate the new year like usual. You can still celebrate New Year's eve at home with cannabis this year, though. We promise it can still be fun!
December 31, 2020
Add some unique cannabis products to your celebration for an elevated night. We think the new year calls for something special, so we've listed off our favorite celebratory products.

Check out these virtual New Year's eve events and our favorite products to ring in the new year!
Times Square Ball Drop
It wouldn't be New Year's eve without the famous Times Square ball drop. We're glad this part of the celebration has not been canceled in response to COVID-19.
Of course, the event will look a lot different this year. There won't be crowds of people gathered around for hours to celebrate and watch the countdown. Instead, viewers will be tuning in from across the country.
This isn't so different from many of our typical New Year's eve traditions. Tuning in to the Times Square ball drop from across the country is something people do every year. The biggest difference may be the people we watch the ball drop with.
Whether you're celebrating with your housemates or tuning into a virtual New Year's eve gathering, watching the ball drop will help restore a sense of normalcy for this holiday.
Snoop Dogg Virtual New Year's Eve Special
As much fun as watching the ball drop is, some of us prefer a more immersive New Year's eve experience. Given we aren't gathering right now, a virtual event is a perfect way to go. And if you're looking to celebrate with cannabis, look no further than this New Year's Eve event hosted by Snoop Dogg!
The event will feature live performances, stunts, and a countdown to the new year. But it's not just any event. Expect monster trucks, stunt archery, alligator trainers, and more.
A week later, on January 7th, you can tune back in for the Go-Big Show featuring Snoop Dogg and others.
To register to attend this virtual event, go here.
Cannabiziac New Year's Eve Virtual Bash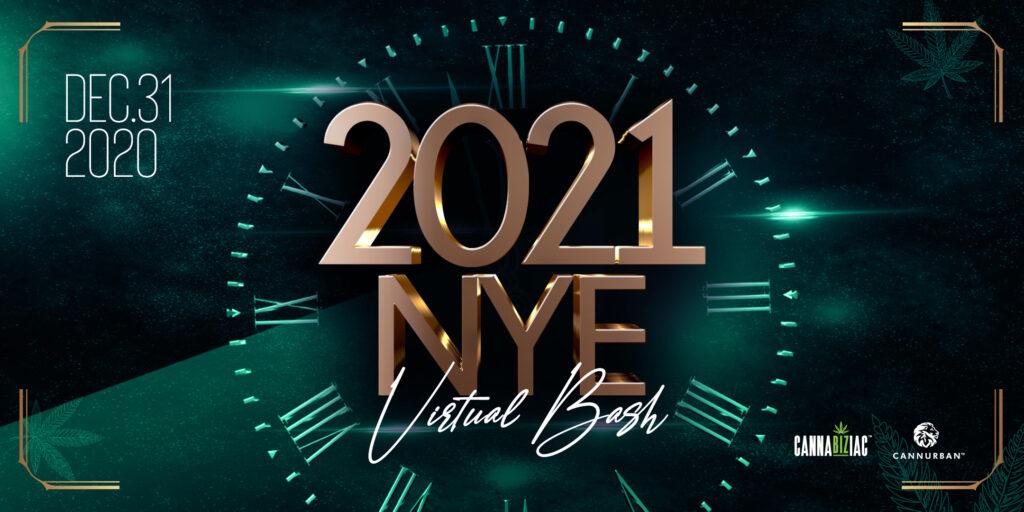 Fitting for a cannabis-infused NYE is the Cannabiziac virtual bash. If you're a part of the cannabis industry or know others who are, this may be the perfect event for you.
To attend, you'll need to pay the registration fee of $25. Hey, it's kind of like the real deal! From there you can attend and enjoy the virtual guests as well as enter the event's giveaways.
Not only that, but the organizers will be giving to partner charities as part of the event. They are emphasizing decriminalization, along with correcting social injustices and other matters.
If you want to give back and celebrate with cannabis in many ways, the Cannabiziac is perfect for you!
Alternative celebration idea: Virtual gathering with friends
For many, NYE is not so much about attending the biggest parties or events and more about spending time with friends and loved ones. While this year will be different, you can still capture the essence of the night virtually.
Set up a group call with everyone that would typically be gathering for New Year's eve in person and enjoy one another's company, virtually. Have everyone bring their champagne and do the countdown together.
Sure, it may not be as wild as yours before, but at least you'll still be spending the night with your loved ones.
The best cannabis products to ring in the new year
Ready to celebrate from home? Whatever you end up doing, don't forget to elevate the night with cannabis.
Here are our top picks for celebrating the New Year with weed:
Oleum Extracts infused prerolls
We can't get enough of these sugar cone prerolls from Oleum. With a great variety of strains available and a flavorful, aromatic punch with each hit, you can't go wrong with these sugar cones to ring in the new year.
Coming in at around 30-37% THC, these prerolls are sure to make your celebration brighter.
Select your location below to view our Oleum menu
North Spokane
Bellingham
Seattle
Ray's Lemonade
A big part of New Year's eve celebrations seems to be centered around beverages. Whether that be champagne, sparkling cider, or many drinks in between, it's always a good idea to have beverages on hand for the big night.
We love Ray's Lemonade for its variety of flavors and potencies. Pick the one that works best for you and let your night take off!
Select your location below to view our Ray's Lemonade menu
North Spokane
Bellingham
Seattle
Bon Bombs by Verdelux
New year celebrations center around drinks, but that doesn't mean you shouldn't stock up on the tasty treats.
Bon Bombs are the perfect chocolate treat to have on hand this New Year's eve. With a variety of flavors and a potent dose of THC per bite, you can't go wrong with these chocolatey delights.
Pair 'em with some fruits, nuts, and cheese and you've got yourself a sophisticated little snack plate.
Select your location below to view our Verdelux bon bombs menu
North Spokane
Bellingham
Seattle
Phat Panda Firecrackers – Pineapple Jack
You can't go wrong celebrating the new year with prerolls enhanced with oil and dipped in kief. That is, unless you have a very low tolerance. These prerolls are potent and pack a powerful punch, so don't go too wild with them if you're not used to oil or kief. Start slow.
We love the Pineapple Jack strain because it's energizing, upbeat, and perfect for socializing. Of course, you'll probably be socializing with your housemates or friends over Zoom, but that doesn't mean you can't still elevate your mood to celebrate the new year.
Select your location below to view our Phat Panda firecrackers menu
North Spokane
Bellingham
Seattle
Final thoughts on celebrating a covid New Year's Eve
We know this New Year's eve is not as exciting as recent years. The typical things we look forward to are pushed aside for now, while we focus on getting everyone back to good health.
But that doesn't mean you can't still celebrate. We hope our suggestions for virtual events and products to enjoy will help with your celebration.
Don't forget to stop by Piece of Mind for all of your cannabis needs!
Piece of Mind Cannabis is a medical marijuana and recreational Cannabis dispensary with locations in North Spokane,South Spokane, Seattle,Bellingham, Pullmanand Anchorage!