Six Fun Bellingham Date Night Ideas
Looking for new Bellingham date night ideas to keep that spark with your special someone? We've got you covered. Bellingham is filled with opportunities for romance, and you don't have to do the same dates again and again. Even when the weather turns dark and outdoor activities are less appealing, this city has endless opportunities for a special date night. 
November 10, 2021
Let's take a look at some Bellingham Date Night ideas!
Chuckanut Drive and oyster dinner
Chuckanut Drive is Washington's original scenic byway, following the shoreline just south of Bellingham. This historic road provided the first land access to the Bellingham Bay community of Fairhaven back when it was completed in 1896.
Today, it provides a gorgeous path from Burlington to Bellingham, framed with stunning landscapes and colorful trees. This makes it perfect for a romantic date night drive, complete with your favorite music and your favorite person beside you. 
Stop at Larrabee State Park along the way to take in some breathtaking shore views. The park is 2,748 acres with 8,100 feet of saltwater shoreline all around. You'll have no trouble finding a quiet, peaceful place to watch the waves with your boo.
When you're done with exploring Chuckanut Drive, you can settle down for a meal at Taylor Shellfish Farms in Bow. It's the perfect end to a fun, romantic date night! Allow the food to settle on your drive back to Bellingham before picking up a joint to share from our Bellingham pot shop!
Go on a wine tasting tour
While Bellingham is surrounded by scenic wineries, there are plenty of wine-tasting adventures you can go on right here in the city. Here are some ideas for your next wine-tasting date with your certain someone.
Open year-round, this winery has a cozy fireplace for the colder months, along with a beautiful patio for summertime fun. The winery is located right off of East Bakerview Road and is filled with delicious, high-quality wines worth a tasting!
This beautiful winery is located outside of the main city, on Huntley Road. It's worth a short, beautiful drive to taste all their delicious blends and take in the magnificent Mount Baker views. They have an indoor tasting room as well as an outside patio, complete with a cozy fireplace.
Catch a show at the Mount Baker Theater or movie at the Pickford
The Mount Baker Theater is home to many amazing performances and film screenings. Whether you have something in mind or not, you can just pull up their schedule and pick a live event (The Price Is Right live, anyone?) or catch a movie screening in their Movie Palace, dating back to 1927. It's an easy way to have a fancy night on the town without having to plan a lot or spend a ton of money. 
If you don't want to visit the Mount Baker Movie Palace, the Pickford Film Center is another fun option. The Pickford was founded in 1998 by a small group of film fans and has since cemented itself into the Bellingham community. They pride themselves on providing a forum and resource for independent cinema and community strengthening.
Grab some dinner before at a nearby restaurant and don't forget to stop by our Bellingham weed store to finish off the perfect date!
Game night at 20th Century Bowl and Ruckus Room
Game night is always a good call for a fun date night. After all, who doesn't like a little friendly competition? Just don't get too carried away. There are plenty of places to play games like pool and pinball, but our two favorite picks include 20th Century Bowl and Ruckus Room.
20th Century Bowl is conveniently located in downtown Bellingham and is the perfect place to kick off a fun night. Enjoy some tasty food and drinks, play some games, and bowl your heart out.
Ruckus Room is a great arcade to visit before or after you bowl. Play video games, pinball, and many other fun arcade games here. You could win a prize for your special someone! If you'd rather go somewhere with drinks available, visit The Racket Bar & Pinball Lounge for an equally good time.
Date day adventure: Take a San Juan Cruise
Few things can beat a romantic whale watching date and the San Juan Cruises can make it happen. Take your special someone on a fully-narrated whale watching tour, complete with a complimentary lunch onboard and a snack bar. Enjoy a full bar with northwest beers and wines as you take in the scenic San Juan Islands.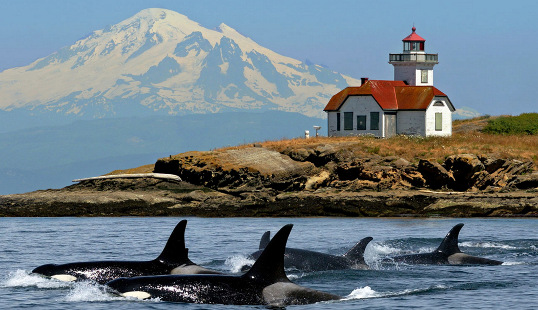 This date will take some extra planning, but it's well worth the effort you put in. Plan to go on a Saturday or Sunday between May 1st – 23rd, or go any day between May 29th and September 26th. From October 2nd through October 31st, you can go on a Saturday or Sunday. Plan ahead for a future San Juan tour that's sure to dazzle your boo.
Alternative date night: A joint and a movie
Find a 4/20 date? What better way to celebrate your shared love of the plant than to get high and enjoy a film? Sharing your favorite records is another fun way to get to know one another better, and there's no doubt that weed and music are the perfect pair.
Take away the stress of hitting the town, spending lots of money, and making small talk by having a fun date night in. You can even start the night off with a homecooked meal or grab your favorite takeout to enjoy from the comfort of your living room.
Stock up for your next Bellingham date night!
However you choose to spend your next date night with that special someone, don't forget to stop by our Bellingham dispensary to stock up on all the green goods you'll need!
We have a great selection of flower, concentrates, edibles, beverages, tinctures, and so much more. And yes, that includes some special infused intimate products.
Stop by and say high today! 
Piece of Mind Cannabis is a medical marijuana and recreational Cannabis dispensary with locations in North Spokane, South Spokane, Bellingham, Pullman and Anchorage!