The Best Cannagifts for your Valentine
It's that time of year where lovers everywhere are scrambling to find the perfect gift for their special someone. If your special someone is a cannabis lover, consider yourself lucky. There are endless products available to give your sweetheart and show how much you care. That's why we've rounded up the best cannagifts for your Valentine and put them in one place! Read on for the best infused Valentine's gift ideas.
February 12, 2021
Cannabis Infused lubricant 
Let's cut straight to the chase. Valentine's Day is the perfect opportunity to try out some of the more experimental cannabis products you may have not thought to use before. Lubricant is a perfect example.
Infused lubricant is the perfect gift for your stoner sweetheart. What says "I love you and I know what you love, too" better than weed and lubricant?
There are several options for infused lubricant and you may want to check in with our Bellingham weed store, Seattle dispensary, or other Washington dispensary locations to see what we have in stock before stopping by. Unsurprisingly, weed lube is a popular menu item this time of year.
Our Pick: Green Revolution 1:1 Intimate Lubricant
This lubricant is often available at our Spokane pot shop and other dispensary locations. We love the balanced blend of CBD and THC packed into this sensual oil.
The best part about Green Revolution's lubricant? The vibrating applicator! That's right. If you're looking for some excitement this Valentine's Day, this infused lubricant is the perfect option. The vibrating applicator is just the beginning of the excitement, though. As the CBD and THC absorb into the skin, prepare for mind-blowing sensations for everyone involved. 
Find Green Revolution Intimate Lubricant when you select your location below:
North Spokane
Bellingham
Seattle
Alternate pick: Fairwinds "O" Lube  
Fairwinds has one of the largest selection of topicals and tinctures we carry at Piece of Mind Cannabis, and their "O lube" is no exception! According to Fairwinds, "O" Lube is a cannabis-infused, hypoallergenic, condom-safe, silicone-based lubricant. O was formulated for people with sensitive skin and to provide a long-lasting glide that won't become sticky or dry. Traditional oil lubricants can cause condom breakage, and water-based lubricants usually do not perform well enough. Fairwinds' silicone formula uses ultra-pure ingredients that won't cause skin irritation. O lubricant is designed for use by all genders.
To apply, Fairwinds recommends one or two pumps to your intimate area or the intimate area of your partner. The sensations from O-lube can be expected to take effect within 10-15 minutes after application. Reapply as needed. The O-Lube is latex safe, condom-compatible, and can be safely applied for both vaginal and anal insertion. Each pump of O lube contains 2mg thc and .4mg of cbd, the entire package contans 140 mg thc and 30 mg cbd with 69 servings in total. Ingredients include Medical-Grade Silicone Blend, Cannabis Concentrate, Terpenes, Polysorbate.
Find Fairwinds "O" Lube when you select your location below:
North Spokane
Bellingham
Seattle
Weed chocolates
Is there a better day of the year to stock up on chocolates? Whether you're treating yourself to a night in or looking to make a special someone swoon, you can't go wrong with weed chocolates.
We recommend a balanced THC/CBD chocolate because they tend to provide calm, relaxing highs. The CBD works to counteract any negative psychological effects from the THC, which helps some feel more comfortable eating the chocolates. Because edibles can cause intense highs that last a long time, it's a good idea to reach for a balanced chocolate that won't cause any frights on this special holiday.
Our picks: Bon Bombs CBD 1:1 Milk Chocolate
Bon Bombs by Verdelux are the perfect chocolates for any occasion. With a variety of flavors and combinations, you're sure to find what you need in their product catalog. 
These 1:1 CBD and THC chocolates are great for easing into a cozy Valentine's evening. A package of Bon Bombs is a great way to show your special someone that you care.
Pro Tip: Wanna really impress this Valentine's Day? Melt some Bon Bombs over medium heat and serve melted with candied orange peels to dip.
Find Bon Bombs by Verdelux when you select your location below:
North Spokane
Bellingham
Pullman
Seattle
Alternate pick: Bubbie's Treats Vegan Fudge  
Bubbie's Fudge comes in several varieties but we prefer the famous fudge for Valentine's. It's simple, elegant, delicious and vegan! These chocolates pack the power of just THC, so be sure to start slow if you don't eat a lot of edibles. 
And just like our tip for the Bon Bombs, we recommend melting Bubbie's Fudge over medium heat and dipping various goods for an elevated evening in. Chocolate-dipped strawberries are a great way to get in the Valentine's Day mood!
Find Bubbie's Vegan Fudge when you select your location below:
North Spokane
Bellingham
Seattle
Live Rosin
If your special someone likes to dab, you will certainly make their Valentine's Day special with some live rosin. This cannabis extract is highly revered in the cannabis community for its superior flavor and freshness.
Live rosin extracts typically provide the purest flavor out of all concentrates. It's why connoisseurs love it so much. Well, that and its high potency despite using zero solvents to produce.
Our picks: Watermelon Zkittlez by Strong Arm Hash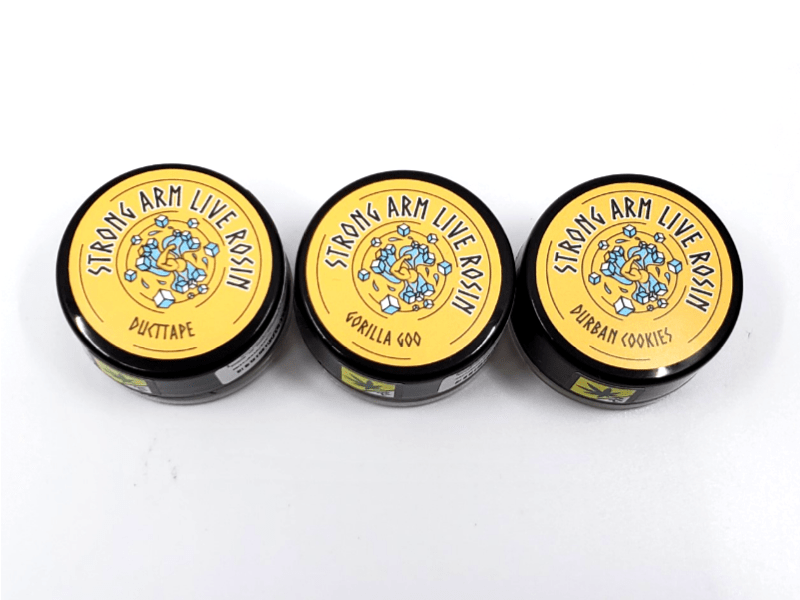 There are many live rosin options available at our Washington dispensary locations. If the Piece of Mind Cannabis near you does not have this, you can rest assured we will have plenty of comparable options to satisfy.
We love Watermelon Zkittlez live rosin because it provides a deep, long-lasting high that relaxes the whole body. Plus, it's extremely flavorful and packs anywhere from 70-76% THC. 
Find Strong Arm Hash concentrates when you select your location below:
North Spokane
Bellingham
Seattle
Alternate pick: Washington Hash Company's Bloopiter
Packing about 72-78% THC, this live rosin is another great option for any dab enthusiast.
This strain is a cross of GMO, Papaya Purple Punch, and Tahoe OG. It is heavy on the body while providing cerebral effects. It's the perfect addition to a Valentine's evening!
Find Washington Hash Co concentrates when you select your location below:
North Spokane
Bellingham
Seattle
Creative cannabis gifts for your special someone
Sure, gifting products is a doubt-free way to satisfy. But if you want to spice it up a little more and show your loved one how much you care, you can take your cannabis gifts a step further. Much like the melted chocolate and dip recommendations we offered before, with just a few easy steps you can turn a pre-made product into a thoughtful, tailored gift.
Weed and chocolate box
Buy a box of chocolates and remove half of the materials. Whatever it takes to remove the chocolates is fine. If that means you have to eat half a box of chocolates, so be it.
Alternatively, you can remove all of the chocolates if that's not your special someone's thing.
Now, fill in all or half of the spaces for chocolates with nugs of weed. We recommend buying a few different strains and mixing and matching for the most exciting weed box.
Cannabis Pre-roll bouquet 
All you need is a handful of prerolls and some ribbon for this cute Valentine's Day gift. Take at least 5 prerolls and bundle them together, as if they were a bouquet of flowers. Now use your ribbon to tie them in place and create a unified look or place them in a fancy cup-like-vase. 
Shop pre-rolls when you select your location below:
North Spokane
Bellingham
Pullman
Seattle
Valentin's Day Cannabis Spa kit 
We're all about self-care and think treat-yourself gifts are a great way to show your love and appreciation for someone.
Put together a spa kit for your loved one with CBD or THC topicals for massages, infused bath bombs or soaks, candles, weed-infused chocolates, and facial masks.
We recommend Fairwinds Flow Gel for its deep tissue and joint relief. Offer to massage your special someone with this or other soothing cannabis topicals. 
Shop topicals when you select your location below:
North Spokane
Bellingham
Pullman
Seattle
Piece of Mind Cannabis is a medical marijuana and recreational Cannabis dispensary with locations in North Spokane, South Spokane, Seattle,Bellingham, Pullman and Anchorage!