7 Apps For Staying Connected With Friends Copy
Human connection is a powerful and important part of life. The impact of COVID-19 has made it difficult for many of us to get the connection we rely on for our own wellbeing. With some businesses still realing from the first two years covid, and covid flare ups here and there, the best way to stay connected these days, is with a screen.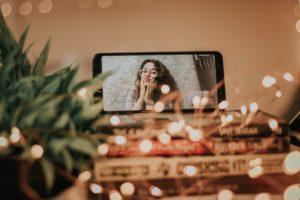 April 28, 2020
Sure, family Zoom calls and virtual happy hour are good ways to scratch the itch. But after a while, especially when most of your connections are also at home all day, finding a good time to connect and coming up with new topics can be difficult.
Rather than exhaust all possible conversations, why not connect with friends in other meaningful ways? Doing activities with one another is a great way to connect and make memories even from a distance. We've put together a list of the best apps to stay connected with friends. Because we all need a little human connection to keep us going. That and weed from your favorite cannabis store. Lots of weed.
Marco Polo for catching up
Sometimes you want to tell someone a story or show them something without having to 1) type out the entire story or 2) have a whole conversation on the phone. The solution is Marco Polo.
With this app, you can send video clips to friends and family and they will not disappear after being viewed. This means users can go back and revisit strings of conversation via video message.
Dubbed a "walkie talkie" style app, Marco Polo is great for those who have different schedules or just have a hard time committing to a time for a video chat. You can set up group chats with friends and family and send updates on your own time while still getting a more intimate connection than just sending texts to the group chat.
For those missing the good old days of sharing a joint with a circle of friends, Marco Polo can be a fun way of passing it around on your own time.
Download Marco Polo for Android
Netflix Party for movie nights
The Google Chrome extension Netflix Party is an easy way to have movie nights with friends from the comfort of your own homes.
If you've ever tried to "watch a movie together" from different places, you probably know just how difficult it is to sync up when you start, pause, and stop the video. In fact, it can feel impossible to get right. Netflix Party removes that frustration, allowing groups to watch a movie together. When one person pauses, everyone gets paused. When someone hits start, the movie begins for everyone.
There is also a side chat bar to allow for easy commentary. Because there's nothing worse than watching a movie with friends and not being able to make witty comments throughout the duration.
Add Netflix Party to your Chrome Browser
Words With Friends for brain games
Yes, this game is still around. And it's still fun. If you're looking for a way to connect with friends on your own time, without having to come up with conversation topics, Words With Friends is a must-download.
Friends and family alike will love playing this game, especially if Scrabble was a popular group activity pre-coronavirus. Beware though, there's bound to be some intense and competitive matches.
You can message with your opponents in the app, allowing for more connection. It's important to be able to message with this game, so you can send things like, "that's not even a word!" or "CHEATER – you googled that!" and other kind exchanges of that sort.
Download Words With Friends for Android
Download Words With Friends for Apple
Squad for casual hangouts
If you miss hanging out with friends while mindlessly doing your own things, Squad is a good app to satisfy that need. This is especially beneficial if you like to sit around with friends, scroll on your phones, and occasionally share a funny meme or piece of gossip with one another.
With Squad, you can video chat with up to six people and switch between your face and your screen. Any member of the chat can swap their view, allowing for endless meme sharing, exchanges of conspiracy theories, and of course, screenshot-free gossip.
The options are endless. Whatever you'd normally show your friend on your phone, you can show them through video chat. This makes it easy to recap an experience by showing your photo roll, get a second eye on photo edits, or even see what your friends think of your Tinder matches.
Download Squad for Android
Download Squad for Apple
Heads Up! for a party game
Whether it's just you and a friend or a whole group of people, Heads Up! is the perfect app to get everyone laughing and having a good time. And we could all use some extra laughter right now.
The premise of the game is to guess what word is on the card over your head based on the clues provided by your friends. There are tons of categories, from celebrities and movies to animals and more. You may even recognize the game from the Ellen Degeneres show.
We love that this app will record the game sessions, allowing users to go back and relive funny moments over and over. Who said you can't still make memories while self-isolating?
Download Heads Up! for Android
Smule for karaoke night
Ah, don't we all miss hearing karaoke from the other end of the bar? Or better yet, performing sloppily in front of our friends and strangers when we probably should go home?
Smule has got you covered. You can sing with friends or even duet strangers. You can do your own song solo or have someone else sing a portion with or for you.
Now, we know solo or group karaoke may feel a little awkward at home. Especially alone in your room. But what better time to loosen up, get high, and let loose? You might even discover a hidden talent!
Evil Apples for game night
Cards Against Humanity fans have to give Evil Apples a try. This app is inspired by the beloved card game and extremely easy to play. If ever there were a game to play while stoned with your friends, this is it!
You'll get a topic card and a selection of answer cards to choose from. From there, you choose the card that will be the funniest answer to fill in the blank. Each player takes a turn as a judge and chooses the best answer from each topic card.
The options are hilarious and absolutely not safe for work. If you're in need of a good laugh, gather some friends virtually and start playing Evil Apples.
Download Evil Apples for Android
Download Evil Apples for Apple
Connecting with your friends while stoned
You can't deny that Cannabis is best enjoyed with friends. Make the night even more fun with a little bit (or a lot) of Cannabis! We found some of the above apps and games to be a lot of fun while stoned! Since you'll be staying indoors while connecting with your friends, we find edibles and vapes to be the most easiest to access. Below is a list of our favorite edibles and vaporizer cartridges to enjoy while connecting with your friends online. (please check the store location on the menu before placing your order).
Pioneer Squares by Craft Elixirs!
Pioneer Squares are chewy gummy squares topped with dried fruit and infused with 100% Pure whole plant hash oil. Non-GMO, allergen & gluten-free, vegan. Pioneer Squares come in several flavors, including Sour Cherry, Black & Blueberry, Pineapple Crush, Pink Lemonade, Watermelon Kiwi. Pioneer Squares come with several CBD flavors too! Pioneer Squares are available in both single serving 10mg packages, as well as 10 packs, ranging in price from $6-$40.
Pre-Order Pioneer Squares Here. (make sure to check your store location before placing your order)
Cold Smoke Cartridges by Subdued Excitement!
Cold Smoke Cartridges feature a mix of only pure H.T.E. (High Terpene Extract) Live Resin & distillate oil. No polyglycol, no synthetic or natural fillers, or flavor additives aside from the strain specific Live Resin H.T.E. of any kind are used. The result is a flavor and powerful combination of strain specific magic. Cold Smoke uses only certified CCELL ® Brand cartridges that have been also tested to be free of heavy metals. Half gram and full gram cartridges range from $42 to $70 and come in a variety of strains like GG4, I-95 Cookies, Ice Cream Man, Lemon Shocker, Mango Glue, Miracle Alien Cookies, Orange Poison, Zkittlez, Tahoe Apricot, and more!
Pre-Order Coldsmoke Cartridges here. (make sure to check your store location before placing your order)
Sativa Malt Balls by Ceres!
Ceres just made a good thing so much better. Ceres infused the finest quality milk-chocolate from Switzerland with their potent, pure CO2 extracted cannabis oil, wrapped around a crisp, satisfying malted ball of yummy goodness. Treat yourself to Ceres – anything less, just won't do! Ranging in price from $3 to $20 for a single 10mg or 100mg 10 pack!
Pre-Order Ceres Edibles here. (make sure to check your store location before placing your order)
Cannabis Vape Cartridges by SKöRD!
These SKoRD vaporizer cartridges are brand new on the market! Experience the full spectrum difference. Unlike distillate , which is mostly devoid of everything that makes cannabis so great, SKoRD uses the same methodology as they do to make their PHO (Propane Hash Oil), to extract all of the natural cannabinoids and terpenes present in the genetics they grow. Nothing is altered, nothing is added. Skord Cartridges are approximately $60.
Pre-Order Skord Vape Cartridges Here. (make sure to check your store location before placing your order)
Staying safe and social during COVID-19
All of our Washington dispensary locations are stocked full of quality cannabis. Whether you want to smoke on some flower, eat an edible, dab some concentrates, or drop a tincture, we've got you covered.
We have a large selection of flower, edibles, concentrates, beverages, and so much more. We're here to answer any questions and help you have a great experience. Our Bellingham dispensary, Spokane pot shop, and other locations are ready for you to stop by and say high today!
Piece of Mind Cannabis is a medical marijuana and recreational Cannabis dispensary with locations in North Spokane, South Spokane, Bellingham, and Pullman, Washington.