COVID Update with Activities to Make You Feel Normal Again
With each COVID update posted, we get closer and closer to normalcy, even if just a little. Looking for some activities to make you feel normal again? We'll take you through the latest COVID updates and give you some ideas to restore that pre-pandemic social life.
May 24, 2021
The latest COVID updates for Washington state
In our previous update, 31% of the state had been fully vaccinated. This means two full weeks have passed since individuals have received their second dose of a two-part vaccine, or one dose of a single-part vaccine.
As of this update, 41% of the state has been fully vaccinated. The state plans to fully open on June 30th unless 70% of people over 16 are vaccinated before then.
We also reported in our previous update that Spokane, King, and Whatcom counties were in Phase 3 of the reopening plan. As of this update, all three of these counties are still in Phase 3 of the reopening plan. In fact, since May 18th, all of the counties in Washington moved to Phase 3, although individual counties could choose to remain in an earlier phase.
COVID is still prevalent across the state. The latest update on May 19th reported Washington's 7-day average at 996 cases. Spokane, Whatcom, and King counties are all listed as "very high risk" for COVID exposure.
So if you're passing by our Bellingham pot shop, Seattle dispensary, or Spokane weed store, you'll still need to exercise caution.
Activities to restore a sense of normalcy
As Washington state navigates towards reopening, many people are itching to return to a sense of normal. It's difficult to say what "normal" will look like, but there are some activities we can return to finally that were off-limits at the height of the pandemic.
We'll give you some ideas!
See a movie in theaters
What says pre-pandemic times more than catching a movie with your friends?
Film enthusiasts have had a rough year. Theaters have operated on and off at various capacities and they're now becoming more and more accessible to the public.
Seattle's AMC theaters are reopening for everyday operations on May 27th. Before then, you can catch a movie one of the three days per week they are open. In accordance with Phase 3 rules, theaters operate at 50% of their typical capacity to the reduce risk of exposure.
Other local Seattle theaters, including The Grand Illusion Cinema, are also now open. They've adjusted their procedures to keep in-person viewings safe, but they also offer virtual screenings if you're not comfortable visiting a theater just yet.
Check with your favorite theater and see if they are open. A good movie and a big bag of popcorn may be all you need to restore a sense of normalcy.
Go bowling
Bowling is a fun pastime that can help you and your friends get back to a sense of normal. Much like movie theaters, bowling alleys have been opening at various rates throughout the pandemic. Now's a good time to lace up your bowling shoes and have some fun!
Bellingham, Spokane, and Seattle all currently have open bowling alleys. Some require appointments, while others are first come first served. Research your favorite lanes or try out a new establishment and have some much-needed fun with friends!
Host (or attend) a dinner party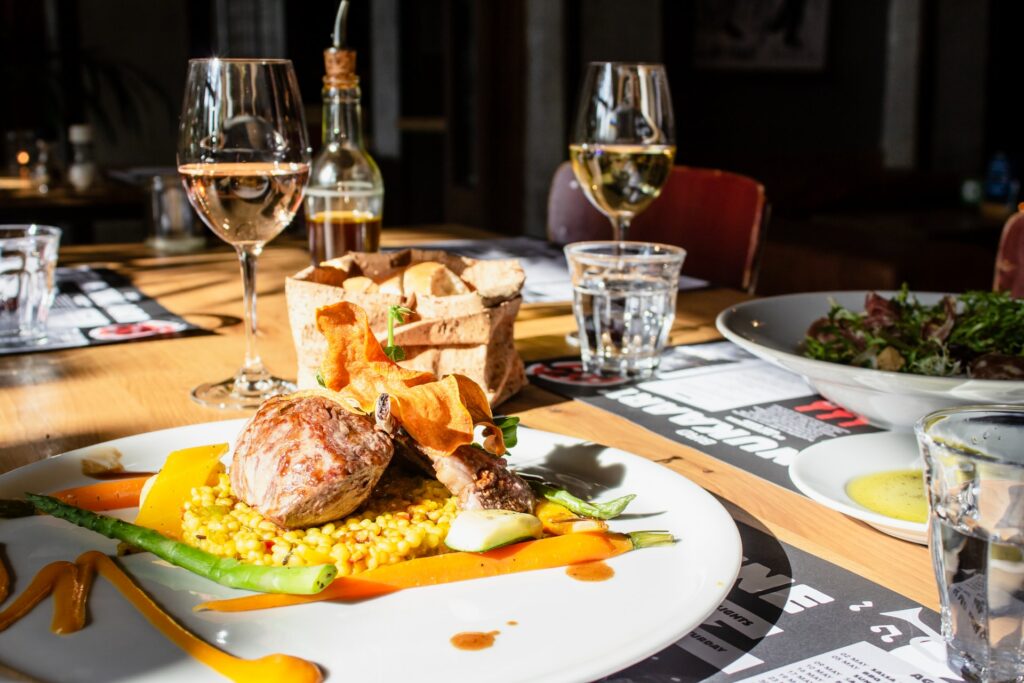 According to the CDC's small gathering guidelines, you can gather in a "home or private setting without a mask with other fully vaccinated people of any age." If you're feeling comfortable and ready to gather with others, a dinner party is a perfect way to ease back in.
Many of us haven't hung out in large groups indoors in a while. Sharing good food and stories around the table may be a nice way to ease into socializing more.
The CDC also states that individuals can "visit inside a home or private setting without a mask with one household of unvaccinated people who are not at risk for severe illness." Even those who have not yet received a vaccine or have opted out may socialize in small indoors groups so long as nobody is at risk for severe illness.
Want to elevate your dinner party? Get inspired with recipes we've shared before, such as stoner-proof lunch ideas or cannabis-infused mocktails.
Visit a bar or brewery
Nothing says pre-pandemic life better than visiting your favorite dive bar or outdoor brewery. Think of your favorite pre-pandemic spots and check in to see if they're now open.
Different establishments will have different rules about visitors during COVID. Expect limited capacities and limited group sizes, at the minimum.
Returning to a bar or brewery surrounded by friends and regulars can really help to re-establish a sense of normal.
If you're near our Fremont Seattle dispensary, check out the "weird little drinking hole" called Bar House or enjoy some 100% certified organic beer at Aslan Brewing.
For those located near our Spokane dispensary, Bigfoot Pub and Eatery is right down the road with plenty of food, games, and beer to enjoy.
If you're in Bellingham, check out our next-door neighbors, Gruff Brewing. We've even compiled a list of the best strains to pair with beer at Gruff so you can take your visit to the next level! 
Favorite Cannabis Products for a Night Out!
Getting ready to go out and enjoy some time with friends in a post-Covid-vaccinated world? We rounded up some of our favorite newest products from Piece of Mind Cannabis!
Famous Fudge by Bubbie's Treats!

Famous Fudge is a delicious plant based and soy free fudge! The perfect treat for any chocolate lover! These vegan pieces of fudge contain 10mg THC per edible. Add Famous Fudge by Bubbie's Treats to your cart and place your pre-order for pick up, today! One Piece = One Serving – 10 Servings – 10mg THC per Serving Ingredients: Enjoy Life Semi Sweet Mini Chips (Unsweetened Chocolate, Cacao Butter, Cane Sugar) and Organic Almond Butter Stock (Organic Dry Roasted Almonds), Marijuana Extract.
DJ Short Blueberry by Sugarleaf Farm
Grab one of the most legendary Cannabis strains on the market! DJ Short Blueberry is an indica-dominant hybrid, although, DJ Short Blueberry begins with cerebral, uplifting feelings and an energy boost which quickly transitions into deep relaxation and ease. Expect sweet, juicy flavors and pleasant aromatics. Add DJ Short Blueberry by Sugarleaf to your cart today!
Dutch Treat Live Resin all-in-one by Buddies
Featuring Dutch Treat Live Resin All-In-One by Buddies The cerebral effects of this giggly, energetic sativa dominant hybrid hit hard and fast, leaving you feeling uplifted and euphoric while reducing stress and relaxing the mind. Expect a hazy but stimulated feeling of calm and a full body buzz from Dutch Treat that begins behind the eyes and moves its way all over your body. The Dutch know how to do it right. We might as well do the same. Get some and then head out on an adventure. It's fire. Add Dutch Treat Live Resin All-In-One by Buddies to your cart and place your pre-order for pick up, today!
Final thoughts 
It's exciting to look towards a future where COVID isn't at the forefront of our minds. We're making progress both as a state and a country, but we still have a ways to go. Things are looking up, though, and even the CDC agrees.
On May 21st, the CDC posted this update: "COVID-19 cases, hospitalizations, and deaths are going down, and the number of people vaccinated continues to go up, providing a sense of optimism as summer approaches. As of May 20, 48.4% of the U.S. population ages 18 years and older is fully vaccinated, and 60.5% have received at least one dose of a COVID-19 vaccine. Additionally, as of last week, millions more are now eligible to receive a COVID-19 vaccine. These trends and new CDC evidence-based guidance on masking provide encouragement that we are making progress toward returning to a sense of normalcy."
We are not in the clear yet, and we should continue to follow guidelines and look out for those most vulnerable to COVID-19. At the same time, we can enjoy some activities that help restore a sense of normal in our everyday lives, such as getting some drinks with friends or catching a movie in theaters.
Let this list inspire you to stay safe and have some fun. Of course, don't forget to stock up on all things weed from Piece of Mind Cannabis! 
Piece of Mind Cannabis is a medical marijuana and recreational Cannabis dispensary with locations in North Spokane, South Spokane, Seattle, Bellingham, Pullman and Anchorage!